We are a family business
FAMILY
Herbert and Christa Hengstberger run the company with the dedicated help of Tamara and Franz Geisberger, the next generation. In June 2021, Tamara and Franz Geisberger become the new managing directors.
"We have great drivers, excellent mechanics and an enthusiastic office team. This makes us proud," said Herbert Hengstberger in May 2019 (on the occasion of the company's 35th anniversary and his 60th birthday), thanking his employees for their great team spirit and loyalty.
Family businesses have a good reputation among employees. The word alone raises positive associations. Our employees can look forward to a good working atmosphere and a management style based on cooperation.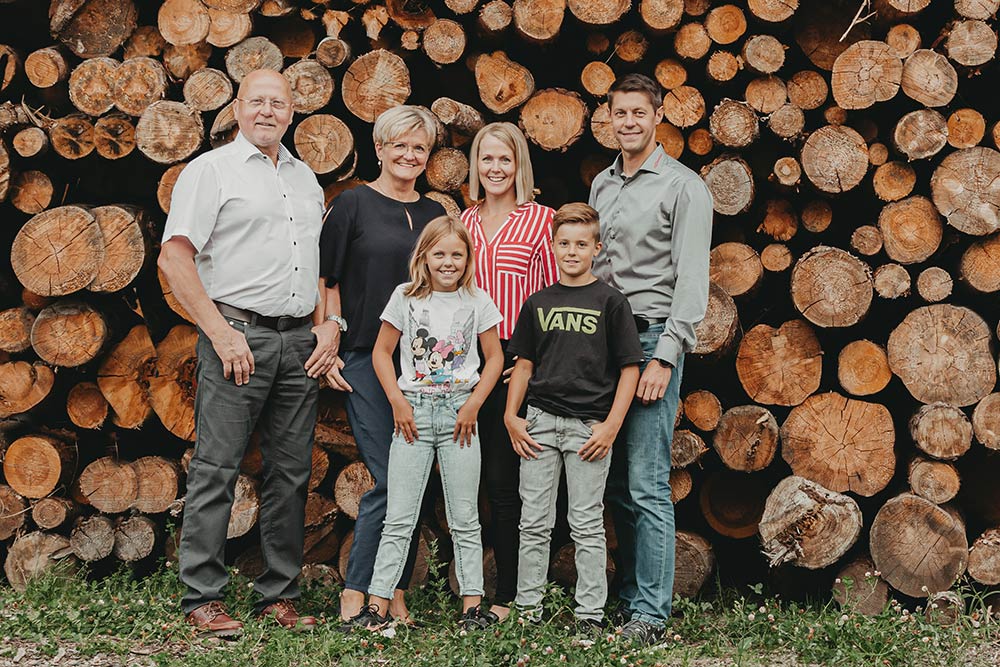 Who is who in the photo:
Herbert and Christa Hengstberger, Managing Directors Tamara and Franz Geisberger, grandchildren Helene and Arthur Geisberger.
Photos: Ines Nejedly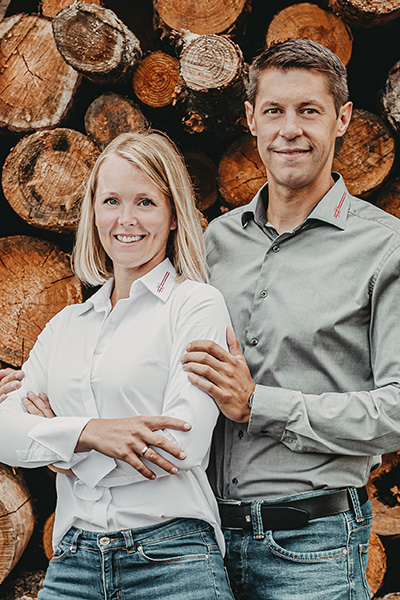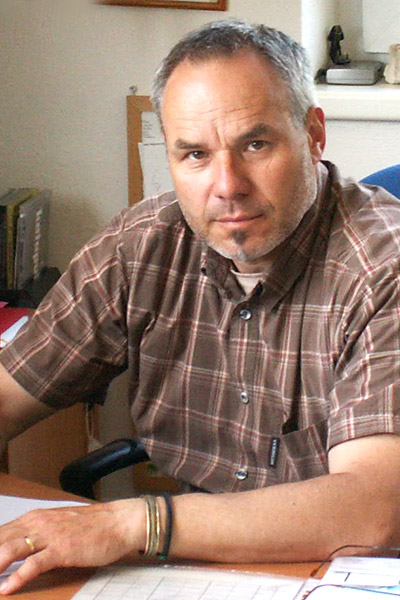 WE MOVE TIMBER
Together with staff in charge of round timber at the individual companies, we developed a logistics concept that guarantees the continuous and on-schedule delivery of goods down to the hour.
To make this happen, our group is maintaining a fleet of 90 trucks, 25 of which are registered with the Czech company.
The road trains are loaded all year long in any weather.
The individual vehicle cabins show logos of Hengstberger and the partner companies StoraEnso and Gebrüder Steininger.
Strong together
PARTNERS
As a visible sign of our close cooperation, 10 trucks were painted with the STORA ENSO logo and 2 with the logo of the STEININGER sawmill.
1949
In 1949, Armin and Maria Hengstberger founded a transport business including trade with local products in Großgöttfritz.
1961
When Armin Hengstberger died unexpectedly in 1961, his wife Maria took over the business on her own.
In 1963, Maria Hengstberger married Johann Wagner.
In 1964, the company name was changed to Johann Wagner Transporte und Landesproduktenhandel.
1979
The Trade with local products was discontinued in 1979.
1984
In 1984, Herbert Hengstberger took over the transport business counting 6 trucks. In the same year, the company was also registered as a timber merchant. In the years that followed, the company mainly transported round timber, trimmed timber, malt and tarpaulins.
1992
Since 1992 the company has been focusing on domestic transport of round timber in Austria and the Czech Republic in addition to hauling trimmed timber and malt. The Timber trade was discontinued, and the business license was deleted from the register.
In 1995 the individual company was changed into a GesmbH.
1996 – 2000
During these years, the company experienced constant growth. This also led to the founding of the Czech company as well as the H.H.-Trans GmbH. To be ready for the future, new business premises needed to be obtained. We purchased a 4-hectare lot conveniently located along the B36 in Grossweißenbach and built a repair shop, office and truck parking area.
In 2000, the Czech business premises were also enlarged to a size of 4 hectares, and a company-owned weighbridge was erected.
2002 – 2010
As of 2002, we have been exclusively focusing on transporting round timber. Owing to our flexibility, reliability and on-schedule deliveries, we were able to sign contracts with STORA ENSO Timber AG and Österreichische BUNDESFORSTE, thus ensuring high utilization of our trucks.
2011
For organizational reasons, we merged our two Austrian companies – "Herbert Hengstberger Ges.m.b.H." and "H.H. Trans GmbH". As of 1 September 2011, the new company name is Hengstberger Transport GmbH, A-3913 Großgöttfritz 35, UID No. ATU50607909 LG Krems/Donau FN 159180p.
2018
In October, daughter Tamara Geisberger passed the qualifying examination for the freight transport industry (Austrian Chamber of Commerce).
2019
In May 2019: Company director Herbert Hengstberger celebrated his 60th birthday. He is awarded the Silver Badge of Honor of the Lower Austria CoC, presented by Vice President KommR Dr. Christian Moser and Ms. Mag. Patrizia Luger with the Transport and Traffic Division.
At the company's 35th anniversary celebration (also held in May), numerous employees were honored for their many years of loyalty by CoC District Manager Anne Blauensteiner. Among the congratulants were all family members, employees as well as mayor Johann Hofbauer.
2020
In October, Franz Geisberger will take the qualifying examination for the freight transport industry (Austrian Chamber of Commerce).
2021
In June, Tamara and Franz Geisberger become the new managing directors.